VYGOTSKII IN HIS WIDER RELEVANCE
Not a lot of people remember that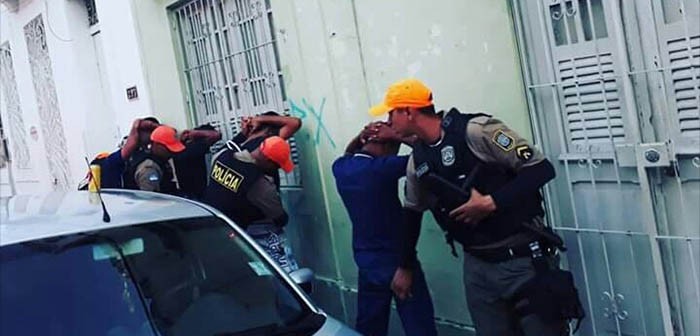 In Brazil
Four personal events from an article on young black people's experience of police violence in the city of Pernambuco in Northern Brazil, as recently reported by
Laérci Portela

in Luís Nassif's online magazine GGN –
Gleydson crouched down, opened the backpack that had been thrown abruptly on the floor and picked up both volumes (Allan Kardec's O que é espiritismo and a book on Vygotsky). He showed the cops:
–

I am a teacher. I am your ally. My work is also against violence
He was put in the police van.
–

They called me crazy ... they called me crazy ... me a teacher, a teacher should be respected by a policeman – teachers should be escorted home, right? I was treated like a mangy cur.
Some time later, the sentence of Justice: contempt for authority.
Little stories about four people who have in common being politically active, and black, the magazine explains. Gleydson (29) is a member of a youth forum, an actor and theatre director, an author and an English teacher. Last year he was a mayoral candidate.
I know nothing of the city of Pernambuco, and very little too about what is going on in Brazil, specifically or generally. I have read this article sent to me by Google News because it mentions Vygotskii. In it I find Lev Semenovich caught up in a front-line experience of what reads like a spiral of repression and resistance.
The magazine tells that violence is growing in Penambuco and that the state is hiring 4,500 police, buying 1,400 vehicles, and creating a 'special operations battalion'. A 'Firm Hand' is promised.
Circumstances and events hardly unique to Penambuco, or to Brazil...
And the magazine mentions this long-dead battler for a better, non-biological explanation of human diversity without word of explanation to its readers of what might be implied by um livro de Vygotsky. No wonder. Its readers have had plenty of opportunities to read about him:
I mention all this here because I think that others might care to think about it.
Reference
Portela, L. (2017)

A violência policial contra a juventude negra de Pernambuco...,

GGN: O Jornal do Todos os Brasis

, 21 October