PAK – NEW ACADEMIC YEAR
Semmelweis welcomes 'Pet

ő

'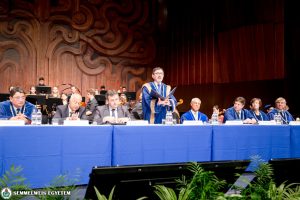 At a grand ceremony yesterday in Budapest, Semmelweiss Medical University formally opened the new academic year.
The university traces its origins back a long way, by which reckoning this is its 248th academic year. It is now a big institution, with over 2,700 students studying in six faculties, including now the Andr

á

s Pet

ő

Faculty. A quarter of first-year students are from abroad, over 450 studying in English and almost 270 in German.
At today's ceremony, Ágoston Szél, rector of first year students, greeted the leaders and students of the new András Pető Faculty –
I wish you all, the staff of the new faculty to feel that Semmelweis University and the András Pető College both win from this integration. I promise you that Semmelweis University will both preserve and strengthen all the values of the former college.
László Palkovics, State Secretary for Education, also spoke. He too greeted the teachers and students of the András Pető Faculty. More widely, he reiterated the Government's intention that coordinated development of theoretical, practical and clinical research over the next ten years should result in Semmelweis's becoming the leading medical institute in Central Europe, taking a place among the world's most outstanding 100 universities and in the top 50 medical universities.
For good or for ill
It will be interesting to watch how things develop, and how 'the Pető' maintains its identity incorporated into this wholly unfamiliar and most powerful hothouse – for better of for worse, for richer or for poorer.
Reference
–

(2017) 'Legyenek kitartóak és hűek a választásukhoz' – megkezdődött a 248. tanév a Semmelweis Egyetemen, Semmelweis Medical University, 2 September
Labels: Chronicle, PAF, PAK, Semmelweis