HAS AP BEEN CELEBRATING HIS BIRTHDAY TODAY?
50 years after he died on it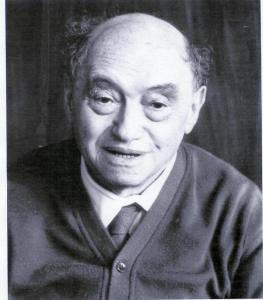 Towards life's end
I am now well used to seeing fans of the late Reuven Feuerstein wishing him a happy birthday on Facebook on the anniversary of his birthday. I suspect that he might he might have found this highly amusing if he had known that this might happen.
Andr

á

s Pet

ő

was not an Orthodox Jew and his ideas on the afterlife were reportedly rather different from what I suspect Reuven's might have been. AP told his acolytes that he looked forward to reincarnation – perhaps he really did, or perhaps he was only teasing. Suppose that he was serious, and right, then he just might have been be somewhere today blowing out a lot of candles on a rather big cake.
Perhaps he has a Facebook account, in which case he will appreciate the first posthumous online birthday greeting that I have spotted:
The ice now broken, perhaps there will be more such salutations.
Perhaps AP might approve. Perhaps not. Meanwhile, Conductive Education would still like to be taken seriously.
Labels: Pető András