PAF: LOOKING BACK ON LOOKING FORWARD
Future memory Semmelweis merger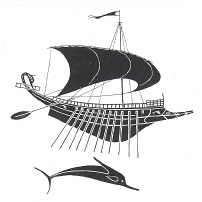 Image by Guy Davenport, 1971
It is now countdown month to the PAI/PAF's incorporation into the Semmelweis Medical University.
Tumultuous times ahead perhaps for those more closely involved, but times pass and future memories have yet to be formed.
In Aeneas's ambiguous words –
Forsan et haec olim meminisse iuvabit
Here is Robert Eagles' English translation –
A joy it will be one day, perhaps, to remember even this
Robert Eagles has commented on this –
One of the most beautiful lines in Latin and also one of the most famous.... It is about loss, about overcoming the worst, but the word 'perhaps' is important. It may not be a joy to remember. It may be a bloody misery.
http://www.beatrice.com/archives/000328.html
Robert Eagles, poet and translator, died in 2008.
Labels: PAF, PAI, Semmelweis