AND SO FAREWELL TO THE PAI / PAF...
To 'merge' with Semmelweis Medical University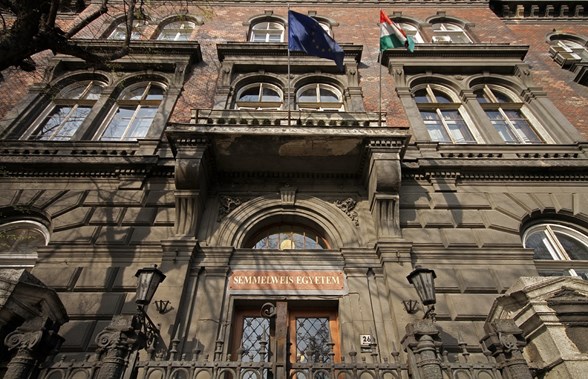 The PAF (formally the Pet

ő

Institute) is to be merged with the Semmelweis Medical University
It remains unexplained why this is being done – and will likely remain so – but the last fix (financial, material, academic, whatever) must not have been working, with the authorities have losing confidence that it would. The announcement confirms the hints and pletyka (rumours) coming from Budapest for some time now.
Available information so far
This from Magyar Nemzet
[In haste because it's getting late!]
The Pető Institute is merging with Semmelweis University
Friday, April 21, 2017, Friday 19:29, updated on Friday 19:34
An agreement has been reached on the integration of Semmelweis University and the Pető András College .
Since August, Semmelweis University has been acting as a separate faculty, said Semmelweis University told MTI on Friday.
According to their statement, the Senators discussed the proposal on Thursday and Friday, and according to the resolutions, the bodies 'support the integration of Semmelweis University and the Pető András College by means of a memorandum of intent. As a result, on 1 August the Pető András College will operate under the same name as Semmelweis University, as an independent college. The integration process also affects the conductive pedagogical centre, which includes the kindergarten, the school and the pedagogical institute.
It has been emphasized that in the case of several domestic and international projects, Semmelweis University and the Pető András College have ha long-term scientific and professional relations. The activities of the institutions not only complement each other, but also work organically to provide new, higher levels of teaching, education, research and development in the fields of orthopaedics, neuroscience and paediatrics from infancy to adulthood.
Senators and the Rector and Chancellor of the Pető András College have been authorised to prepare for integration...
The other four newspapers say much the same – though Eduline adds that Ministry approval is still needed to finalise the deal.
For the moment, tomorrow is another day. Not just the staff, students and clients at PAF will face their own considerable personal distress and uncertainties but people and institutions involved in Conductive Education around the world may have concerns of their own.
Only yesterday Conductive World remarked that perhaps by Summer the direction of PAF's diverse schemes and project might have become a little clearer. Too true, Bruce. What will happen to them now? Indeed, what will happen to a lot of things, and people, and practices...?
And what (many people with no concerns for either disability or Conductive Education will be asking), is to happen to those two very valuable pieces of real estate, in Vill

á

nyi

ú

t and K

ú

tv

ö

lgyi

ú

t? And what...?