POLITICAL RECORD ON LINE
Preparing for Prime Ministerial visit to Hungary
Margaret Thatcher's, in 1984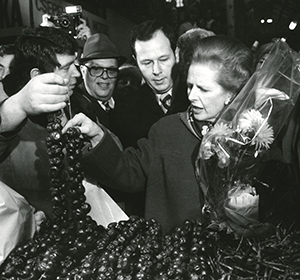 Shopping for garlic, honey and paprika at the Great Market in Budapest
It is amazing what one finds on line, altogether by chance, while looking for something quite else
–
this surprising collection, for example, marked 'UK/Hungarian relations Confidential file':
I do not know who has put this little bundle of paper on line. It comprises photocopies of actual documents that had been fixed together with a string, being copies of papers exchanged by UK civil servants and others in advance of Margaret Thatcher's visit to Hungary in 1984.
(While there,
when she was being taken round the Great Market in Budapest,
she blew many Magyars' minds by paying for things – we were told that they were not used to seeing their own politicians paying.)
These old documents may be of interest here because they include something of the early political campaign in the UK to get Conductive Education on to the national political agenda.
From the top down, the eighth to the sixteenth of these documents relate to advocacy
of
Conductive Education
as something in Hungary worth paying attention to,
by Brigadier Michael Harbottle
of the Centre for International Peacebuilding
.
In the event, Michael's initiative did not see immediate outcome. Conductive Education did not fully engage the interest of the UK Foreign Office till the effects of Standing up for Joe (first broadcast in 1986) had created sufficient political impetus. Margaret Thatcher's own big intervention in the field came later still, in the UK Government's lonely response to the International Pető Appeal (of which the 'hotel' in

Vill

á

nyi

ú

t remains tangible fruit

).
But that is another story...
Labels: History, Hungary, Pető Institute, Politics, United Kingdom